Who is Culbreath Transportation?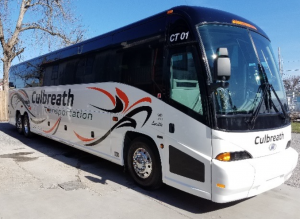 Culbreath Transportation is the premier provider of charter bus transportation services across southern Louisiana and Mississippi. Our experience in the ground transportation industry qualifies us to service a variety of domestic or international tour groups, corporate travel groups, travel agencies/destination management companies, hotels/resorts, universities, schools, clubs and charters Transit agencies, large employers, and airports.
When you trust Culbreath Transportation to provide your ground transportation, your vehicle will arrive on schedule, cleaned and detailed. It will be operated by one of our uniformed professional drivers, all of whom are amicable, knowledgeable, trained in transportation safety and dedicated to customer service. Please browse this site to learn more; then, contact us to request more information or schedule our services. We will be glad to answer your questions and book your service.
We offer 110 outlets, 3 point seat belts and foot rests at every seat. We also offer overhead covered personal storage, external luggage storage, six dvd monitors and WIFI! Click here to view our photo gallery!
We allow food and beverages on our coaches if the schedule necessitates, but ask you to keep the coach clean, and return it to us the way you received it. Bathrooms are available for your convenience but we ask that you keep it clean and refrain from flushing paper towels, objects or any material other than the paper provided for your use.
We value all of our customers and strive to provide a clean and pleasurable experience for everyone, so we ask all to please be mindful of our current and future guests as well as our equipment.
Experienced, dedicated drivers will get you to and from your destination in comfort and in style, allowing you to concentrate on what is most important to you. We stand above our competition by offering a tailored travel solution for both corporate and leisure travelers. Day or night, Culbreath Transportation is ready to get you where you need to go:
Trustworthy (We will always deliver what we promise)
Honest (There are no hidden fees)
Reliable (We will be there when you need us)
Prompt (We will always be on time)
Safe (Our drivers receive cutting edge training and have spotless driving records)
Licensed & Insured (Our fleet is fully insured, and our company is licensed)